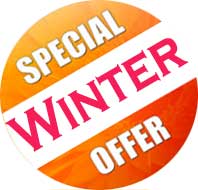 Package Tours for Bhutan
Package Tours to Bhutan can be grouped in two ways. Either based on mode of transport or based on destinations visited.
Mode of Transport
Your guests may drive in or out of Bhutan or they may fly in or out.
If your guests plan to fly, they have to book Druk Air flight which connects Bagdogra, Delhi, Kolkata, Guwahati and Mumbai in India with Paro in Bhutan. This way your guests will save travel time but the tour expense will be higher.
Alternatively your guests may get down at Bagdogra Airport or New Jalpaiguri Rail Station and enter Bhutan through Phuentsholing boarder. This is a cheaper option, but one night stay at Phuentsholing, the border town is necessary on each way.
Destinations
Thimphu, Paro are the most oft visited tourist destinations. Punakha comes a close third. Trongsa and Bumthang are the other destinations that Indian tourists visit in Bhutan.
Fly In and Fly out tour options
5 Day Tour - Thimphu (2 Nights), Paro (2 Nights) – Code LB501
6 Day Tour - Thimphu (2 Nights), Paro (2 Nights), Punakha (1 Night) – Code LB601
7 Day Tour - Thimphu (2 Nights), Paro (3 Nights), Punakha (1 Night) – Code LB701
10 Day Tour - Thimphu (2 Nights), Paro (3 Nights), Punakha (1 Night), Trongsa (1 Night), Bumthang (2 Nights) – Code LBA01
One Side Flight and One side Driving Options
6 Day Tour - Phuentsholing (1 Night), Thimphu (2 Nights), Paro (2 Nights) –
Code LB602 (Fly in and Drive Out)
Code LB603 (Drive in and Fly Out)

7 Day Tour - Thimphu (2 Nights), Paro (2 Nights), Punakha (1 Night), Phuentsholing (1 Night) –
Code LB702 (Fly in and Drive Out)
Code LB703 (Drive in and Fly Out)

8 Day Tour - Thimphu (2 Nights), Paro (3 Nights), Punakha (1 Night), Phuentsholing (1 Night) –
Code LB801 (Fly in and Drive Out)
Code LB802 (Drive in and Fly Out)

11 Day Tour - Thimphu (2 Nights), Paro (3 Nights), Punakha (1 Night), Trongsa (1 Night), Bumthang (2 Nights), Phuentsholing (1 Night) –
Code LBB01 – (Fly in and Fly Out)
Code LBB02 – (Drive in and Fly Out)
Drive in and Drive Out Options
7 Day Tour - Phuentsholing (2 Nights), Thimphu (2 Nights), Paro (2 Nights) – Code LB704
8 Day Tour - Thimphu (2 Nights), Paro (2 Nights), Punakha (1 Night), Phuentsholing (2 Nights) – Code LB803
9 Day Tour - Thimphu (2 Nights), Paro (3 Nights), Punakha (1 Night), Phuentsholing (2 Nights) – Code LB901
12 Day Tour - Thimphu (2 Nights), Paro (3 Nights), Punakha (1 Night), Trongsa (1 Night), Bumthang (2 Nights), Phuentsholing (2 Nights) – Code LBC01
Download All Bhutan Tour Packages in Word Format
Apply for login to our Instapack system for instant costing on hundreads of packages