Sikkim – for travel agents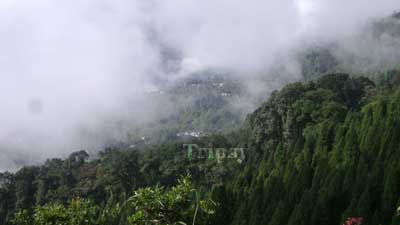 A little Background
Till 1975 Sikkim was a separate kingdom. In 1975 the popular demand for setting up a democratic set up ended in Sikkim becoming the 22nd state of India. Since then a democratic government has been running the affairs of the state and Sikkim has been in a continuous path of improvement in all fronts.
Tourism in Sikkim
Till the 1980's Sikkim was mostly inaccessible to general tourists. Since then tourism in Sikkim has progressed substantially. The most popular destinations of tourist attraction in Sikkim include Gangtok, Pelling and Lachung (North Sikkim). Additionally Lachen in North Sikkim and Ravangla in South Sikkim has also gained prominence. There are many other smaller tourist destinations in the state that promote village tourism, homestay, eco-tourism and other such ideas.
Sikkim and Darjeeling is often clubbed together as a common tourist circuit. The most common tourist route is Darjeeling-Gangtok-Pelling-Kalimpong and Darjeeling-Gangtok-North Sikkim.
For the adventure lovers Sikkim offers plenty of choices, the most popular trek is the one to Dzongri Goechala in west Sikkim. Rafting, Paragliding, Mountain biking, motor biking etc. are other common adventure tourism activities in the state.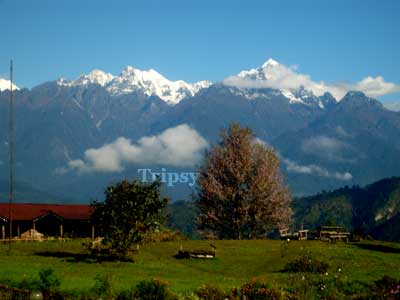 Duration of a typical leisure tour
A typical leisure tour normally covers the region in 5 to 15 days. Most common tours are of 7-10 days duration.
Place
Typical Tour Duration
Darjeeling
2 to 3 nights
Kalimpong
1 to 3 nights
Gangtok
3 to 5 nights
Pelling
1 to 2 nights
North Sikkim
2 to 4 nights
Note: The list is meant to help travel agents plan a tour. It is indicative only
Getting There
From
Distance
Time (approx)
New Jalpaiguri /
Bagdogra Airprt /
Siliguri Town
115 km
3.5 hours
Darjeeling
100 km
4 hours
Pelling
110 km
4 hours
Kalimpong
80 km
3 hours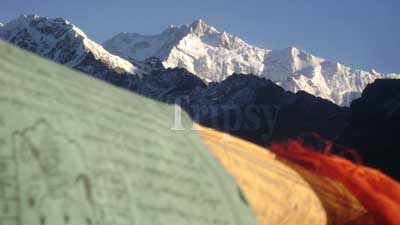 Accommodation for tourists
Gangtok offers wide variety of hotels. At tripsy, we offer 8 different categories of hotels starting from Budget to Heritage properties.
Districts of Sikkim
The state is divided into four districts; South, West, East and North.
The South district consists of relatively low altitude tourist destinations. The more popular among them is Namchi and Ravangla.
The West district is popular for its proximity to Kanchenjunga. Although Mt. Kanchanjunga and other peaks of the range can be seen from throughout the region, the Mt. Kanchanjunga is located close to Dzongri and the Kanchenjunga base camp is also in the state. Pelling, Geyzing, Yuksom, Rinchenpong, Hilley, Varsey, Hee, Barmiok, Tashiding etc. are common tourist destinations of West District.
In the East district, the most famous tourist destination is the Gangtok, the capital of Sikkim. Common tourist day visit destinations Tsongo lake, Baba Mandir and Nathula pass also falls in this district. There are several new tourist destination coming up in the district including Dzuluk, Memenchu, Aritar, Rishi etc.
The North Sikkim is famous for its high altitude rhododendron sanctuary and the beautiful snow capped mountains. Lachung and Lachen are the two main points for overnight stay. From Lachung a day visit to Yumthang valley and the from Lachen day visit to Gurudongmar lake and Chopta valley are memorable experiences.
Entry Formalities
Indian tourists do not require any prior permission to enter into Sikkim. All foreign national require ILP to enter into Sikkim. tripsy will assist you regarding arrangement of the ILP for your guests. The ILP is issued for a period of 30 days which can further be extended for another 30 days.
Pakistan, Bangladesh, China and Myanmar nationals need special permission from Ministry of Home Affairs (New Delhi) to enter Sikkim. Bhutan nationals do not require ILP to enter into Sikkim.
Special permits are required to visit many parts of Sikkim such as North Sikkim and Nathula, Tsongo lake area. These permits are also arranged by tripsy.
Following is the list of places that can be visited by Foreign nationals in Sikkim
I. East District
i. Gangtok-Penlong-Tinjure-Rumtek/Martam
II. North District
i. Gangtok-Chungthang-Lachen-Thangu
ii. Mangan-Lingzia-Shabrung-Tholung Monastery-Kisong (except Yabok)
iii. Mangan-Lingzia-Sakyong-Royot Patam (except Gochala)-Dzongri-Yoksum
iv. Yumthang-Phuni-Phunichoka-Tarum Chachu-Chunbgthang
v. Dikchu-Phodong-Labrang-Namptam-Mangan-Maling-Singhik-Samartek-Chungthang
vi. Lachung-Yumthang-Yume-Samdong
III. South District
i. Sirwani-Temi-Damthang-Tendong-Namchi
ii. Damthang-Tendong-Damthong-Rabangla-Maenam-Yangaang-Singchuthang-Sirwani
iii. Rabangla-Maenam-Borong/Polout-Tashiding
iv. Kewzing-Rayong-Tinkitam-Legship
IV. West District
i. Yuksom-Dzongri (except Gochala)
ii. Yuksom-Dzongri-Thangsing-Lampokhri
iii. Utterey-Chewa Bhanjang-Dhond-Garakhet-Oktak-Dzongri
iv. Hilley-Versay-Singalila-Chewabhanjang
v. Hilley-via-Sombarey-Versay-Soreng
vi. Hilley-Versay-Dentam
vii. Pelling-Sangcholing-Khecheperi-Yuksom-Dubdi-Sinon-Tashiding.
V.
i. Tsomgo Lake in East Sikkim (day visit only)
ii. Mangan, Singhik, Toong, Chungthang, Lachung and Yumthang (for 5 days only)